What does "WAGS" stand for? Water And Gas Safety...and WAGS our Golden Retriever Mascot!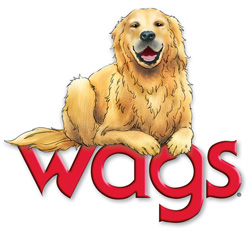 "The One Shot Wonder"? The WAGS valve is a single-use, one-time activation water flow shutoff device for gas, oil, or electric water heaters. Like an automotive airbag, it performs a one-time critical function.
How does the WAGS work? The WAGS valve is designed to shut off the water supply to a water heater in the event of a leak, minimizing property damage. The WAGS valve sits in a drip pan under the water heater and when approximately 1 inch of water accumulates, the WAGS closes off the incoming water. A red pop-up tab indicates activation. Another WAGS benefit is that the tank typically draws a vacuum and stops the water leak.
Do WAGS Valves require checking or servicing? No… WAGS is the only 100% mechanical water heater safety valve on the market.
No Electricity. No Batteries. No Wireless Signals. No Maintenance.
Is installation difficult and time consuming? Installation requires a drip pan positioned under the heater tank and routing of the cold water line in and out of the WAGS Valve. Professional installation normally adds 15-20 minutes to a new tank installation.
WAGS Valve – Installation Locations: Best Value
1. Finished Floor – Above First Floor
2. Finished Floor – First Floor
3. Finished Basement
4. Above Drop Ceiling (small tanks) in Living/Working Areas
5. Unfinished Basement
6. Garage
7. Attic – NOT RECOMMENDED! Due to High Temperatures and High Humidity, Valve May "Dry-Fire" in Either Extreme Condition. >>> If Attic Installation is Required: AQUAGUARD Recommends a WAGS Valve By-Pass Loop be Incorporated into the Cold Water Line.
8. Outside of Building – NOT RECOMMENDED!
~ ~ ~ ~ ~ ~ ~ ~ ~ ~ ~ ~ ~ ~ ~ ~ ~ ~ ~ ~ ~ ~ ~ ~
Can I get an insurance discount by installing a WAGS? Some insurance companies do offer discount riders as the product is well established and the actuary data supports savings. Property owners should call their insurance agent regarding available discounts.
Why Aquaguard?
Buying Direct Saves You Money

Support Innovative USA Manufacturing

The Only 100% Mechanical Water Heater Safety Valve On The Market
What markets does the WAGS valve best serve?
Engineers: REITS, Apartments, Condos, Commercial, Multi-Units, Retail, and Property Managers.
Contractors: Homeowners and Commercial Customers.
Distributors: Plumbers, Commercial Accounts. and Homeowners.
Why is the WAGS Valve better than the competition?
"Sense & Alarm" are battery or electric powered devices. If the property owner is not around to hear it then the property is getting wet – they do not stop the water flow!

"Sensor & Shutoff" require an electrician to tie-in the electrical solenoid valve shutoff to a battery and/or electrical panel. If you lose power or battery goes flat, you are still at risk from leaking water.

WAGS is 100% mechanically activated -

WAGS Will Watch

– So you don't have to!